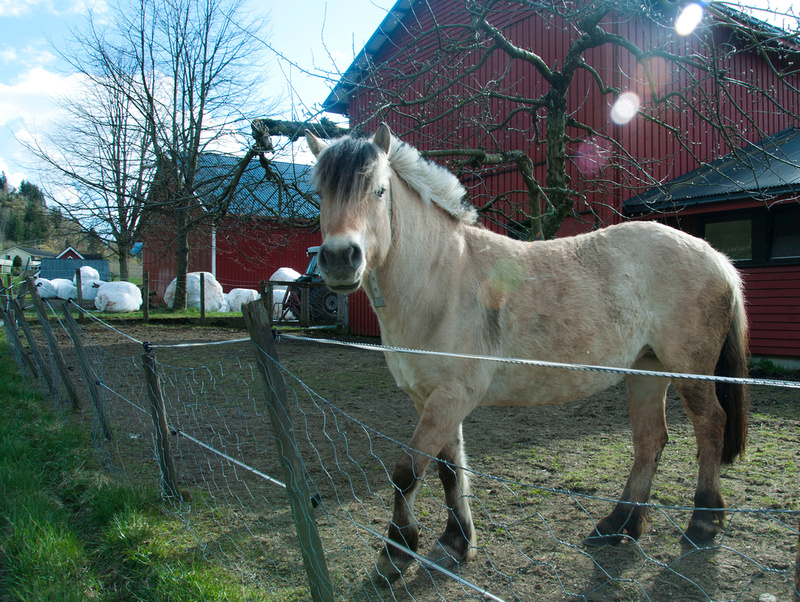 This fellow greeted me on my way to the work place in Leikanger this morning! This is a breed of horses that derive from the county of Sogn and Fjordane where Leikanger is situated. She was very curious about my camera and me, and also really wanted a treat - she kept nibbling on my hand that I tried to pet her with. Unfortunately I didn't have any treats!
This was the day where I returned to Bergen, and by the time I left the weather had changed drastically, and it was raining and grey and windy.
From Wikipedia:
The Fjord horse or Norwegian Fjord Horse is a relatively small but very strong horse breed from the mountainous regions of Western Norway. It is an agile breed of light draft horse build. All Fjord horses are dun in color, with five variations in shade recognized by their breed registries. One of the world's oldest breeds, it has been used for hundreds of years as a farm horse in Norway, and in modern times is popular for its generally good temperament. It is used both as a harness horse and under saddle.
The Fjord horse is one of the world's oldest and purest breeds. Horse were known to exist in Norway at the end of the last ice age. It is believed that the ancestors of the modern Fjord horse migrated to Norway and were domesticated over 4,000 years ago. Archaeological excavations at Viking burial sites indicate that the Fjord horse type has been selectively bred for at least 2,000 years.[1][3] The Fjord horse and its ancestors have been used for hundreds of years as farm animals in western Norway. Even as late as World War II, they were useful for work in mountainous terrain. The Fjord horse also has a long recorded history of pure breeding without crossbreeding from other sources.
It is day 116! That means "only" 250 days to go!
Some other horses I met there