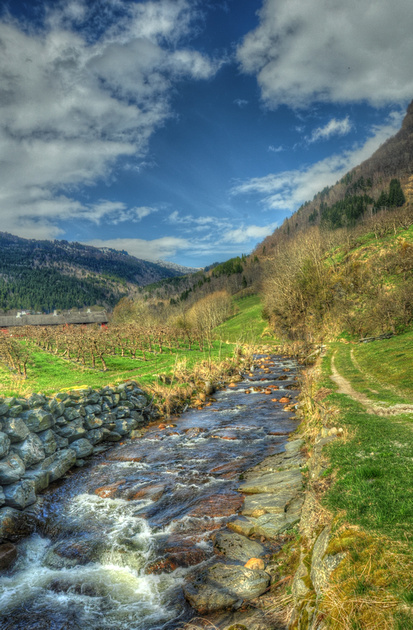 After being done with the work day, I headed to the hotel to change into clothes and shoes more appropriate to go hiking with. It was such a nice day, and I could not spend it only being inside! The nature in
Leikanger
is dramatic and superb. It has my two favorite features - the ocean and the mountains. I kept finding myself thinking many times on my hike "I could live here!". I have always had a dream of owning a small house by the ocean... and here that would be feasible! But reality sinks in, knowing it is not only myself I would have to move, there is family being involved.
But, at least I can enjoy the spectacular views and sights while here. This is one of the valleys that goes from the small town center and in between the many tall mountains that surround Leikanger.
Here you can really see the enormous-ness of the mountains that surround the town. See that tiny house?
Some more spectacular nature.

Fruit farm.
From a tourist brochure:
Leikanger is the SogneFjord's orchard, with its around 80,000 fruit trees. This fruit district is
at its most beautiful during the blossoming period in May, and is the municipality in Norway
with the highest average temperatures throughout the year. At the end of the nineteenth
century, many unusual and exotic plants were planted at the rectory farm, Prestegårdshagen, to
investigate whether the climate was suitable for them, and the plants are still growing at this
arboretum.
View