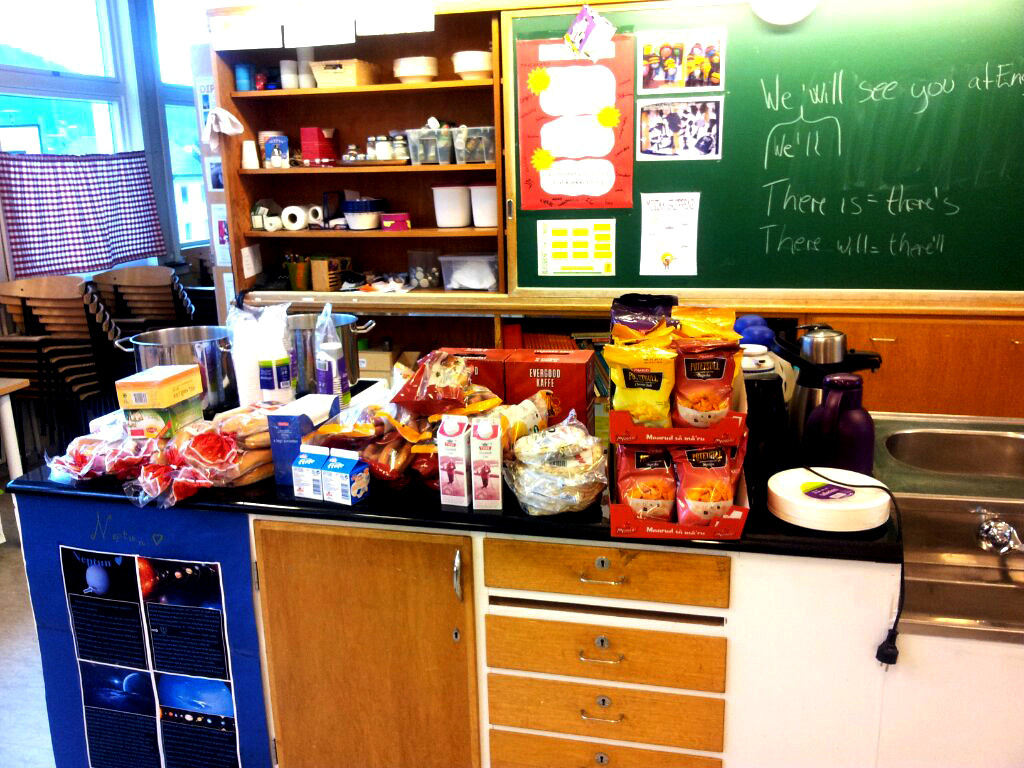 Today was super busy. Tomorrow, the 17th of May, is Norway's
constitution day
, and it is celebrated big! There is an official parade downtown every year that the girls partake in since their school is an inner city school. but in the afternoon, there is a lot of activities happening in their schoolyard - games, lotteries, bake sale, and other food, speeches and entertainment from a stage. And each year, someone has to make sure all this happens, plan for it and buy in for it and delegate others to help with getting the activities going on the day itself. It is the parents of third and sixth grade that has this responsibility each year, and a few of those parents again that is in the comity that decided and rules over it all! This year, I am in charge of food and kitchen and the staff that will sell and serve it all. all afternoon/early evening was spent at school preparing for the next day. What you see in the photo is some of the food we will prepare. The school kitchen is now used as aclassroom, since the school is so small that when the first grade started last fall, and they were the size of 2 classes and needed an extra room, they had to start using every room as a classroom. Obviously, the kids that has this as a classroom, had English lessons earlier this day - see the writing on the black board?
Earlier in the day I even left work early to go home and clean, bake, prepare tons of food that we will serve for family here in-between the parade in the city and the happenings at the school! And made dinner...
It is going to be an all day frenzy the 17th. Getting up early to make sure the girls get to the parade in the city, watch the parade, come back here to serve up a spread of food for family, then a couple of hours later, get up to school to do the work required until the evening. Coming home and entertain family some more after that again. Then, I am going to need a cold beer and sit down, finally!
It is a lot of fun also, though, and I am looking forward to see the girls getting thrilled with everything.